Low Content Book Publishing
For designers looking for another way to make some extra cash from their art, low content book creation might be the key! Low content books are items like journals, workbooks, and coloring books, to name a few. Entrepreneurs have been taking advantage of the print-on-demand platforms and their ability to scale. Zero inventory, zero up-front fees. For those just starting off, it's a win-win scenario. Simply upload cover art, add the book's interior, add the description and it's all set! If you are just starting out with low-content book publishing and want to know how to publish your first item, keep reading! I'll be covering applications that can be used and platforms that enable this type of publication.
Book Contents: Build or Buy
Your book's contents can make or break a sale. This is especially true for workbooks and coloring books. The pages within are often given a small preview on most publishing platforms, be sure to really put in the time and research for how you want the inside of your book to look. Often, low-content book publishers will leverage ready-made templates to build their content. These templates tend to be cheap, ranging from $7 to $40 in some circumstances. Some hire help from designers on Fiverr and Upwork to make custom pages to make their workbooks and coloring books more unique.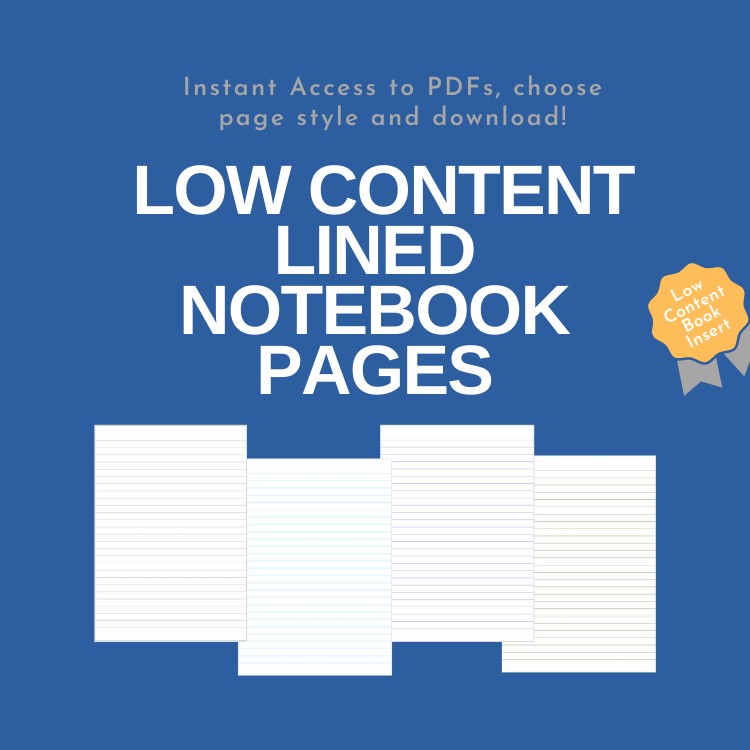 In the Shop, I've put together a set of notebook and journal interiors to download in PDF form. Each downloadable PDF is $1.99 and ranges in page size and line coloring. Page sizes offered are 7x10 and 5.5x8.5 and the length of each PDF is 120. The paper line colors initially offered are Baby Blue, Asparagus (Green), Orange, Lavender, Light Gray, and Dark Pastel Red. This provides buyers the option to further customize their journal, notebook, or diary offerings with something other than black or dark gray lines.
Template providers may offer a range of other products and services such as templates for covers, instructions for varying marketplaces, and at times, done-for-you (DFY) publishing where they have you select the interiors and covers while the provider performs the publication steps for you. This may or may not include proper store setup. Always confirm what is included in the DFY bundles offered.
While the shop only provides select templates and PDF interiors for these low-content books, you can instead purchase the LaTeX code to generate your own interiors in whatever color, page quantity, and size you care for. These LaTeX code downloads are available for both lined pages and graph pages.
If you are looking to design your own interior or book cover, Canva is highly recommended. You could also use a professional design application to help get your book creation going. Looking for the properly sized book covers for these book inserts? Stay tuned for the next post!
Thanks for reading!